Glycine is now owned by Invicta, as everyone knows. But they made the historically important -- and still very cool -- Airman. An innovative and groundbreaking watch for pilots and military servicemen and women. The Airman was so iconic it defined the very brand identity of Glycine for decades.
I stumbled across this listing on eBay (I'm not considering buying), but doesn't this look like an homage to frankened Enicar guides?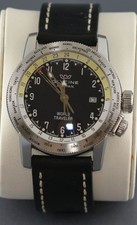 Find great deals for Glycine Airman World Traveler Watch 3939.19 LB9B. Shop with confidence on eBay!